How it works
We have designed 'Fin Drive Systems', a unique, patented, fin system that drives our boards.
Simply lay on board, press button and the board will move through the surf. For more speed whilst catching waves simply position foot on button. Motor only works when you are on the button.
We use lithion ion batteries. Our boards are easy to charge. Simply plug board into standard outlet. Boards can be charged in 35 minutes on the home charger.
Easy to maintain. Simply flush the board and grease the shaft.
At least 35 minutes continuous run time which equates to 1.5 to 2 hours in the surf.
Speed - Approximately 7km/hr continuous under 95kg load on the 9'6" board. Measured using GPS.
Boards can be surfed with or without motor operating.
Designed, assembled and tested in Australia for export to the world.
Front of board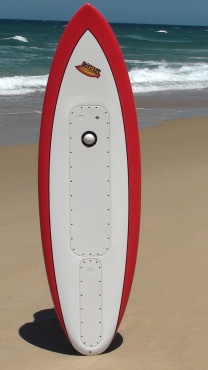 Back of board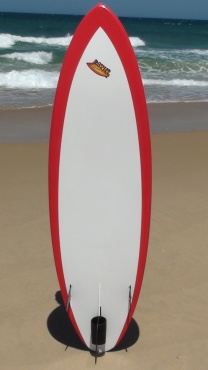 Specially designed fin